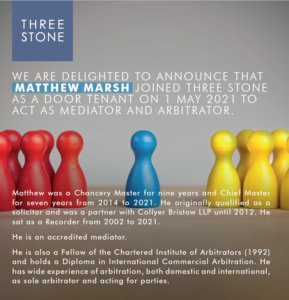 We are delighted to announce that Matthew Marsh joined Three Stone as a Door Tenant on 1 May 2021 to act as Mediator and Arbitrator.
Matthew was a Chancery Master for nine years and Chief Master for seven years from 2014 to 2021. He originally qualified as a solicitor and was a partner with Collyer Bristow LLP until 2012. He sat as a Recorder from 2002 to 2021. He is an accredited mediator. He is also a Fellow of the Chartered Institute of Arbitrators (1992) and holds a Diploma in International Commercial Arbitration. He has wide experience of arbitration, both domestic and international, as sole arbitrator and acting for parties.
Stephen Baister said: "A former solicitor in a respected London firm and, until recently, Chief Chancery Master of the High Court, Matthew Marsh (alongside whom I was privileged to work) brings a unique blend of skills to the Three Stone mediation and arbitration team. The breadth of his practice and judicial experience is complemented by a calm and reassuring personality. Litigants and their advisers will find him effective in a wide range of commercial and other disputes in both capacities in which his services are available."
Justin Brown (Senior Clerk) said: "I am thrilled that Matthew is joining us. His role as Chief Master was a greatly distinguished one. He joins our experienced team of arbitrators and mediators and I am sure will have great success".
Matthew Marsh
matthewmarsh@threestone.law